This is a sponsored post on behalf of So Syncd.
Dating can be challenging, but even more so as an INFJ. Despite being introverts, INFJs crave deep, authentic connections with others, but rarely meet people with which they truly click.
When it comes to love and dating, it's not enough for an INFJ to 'get on well' with someone – they are looking for a soulmate.
Even though INFJs are people-orientated, they need their alone time too, and spending night after night going on dates can be exhausting.
As introverts, INFJs have limited energy for social interaction. This is why it's even more important when INFJs date, their chance of meeting someone with whom they can share a deep, fulfilling connection is as high as possible.
To help with this, my sister and I set up So Syncd, the first dating app and website that matches compatible MBTI® personality types.
We've had thousands of INFJs join. In fact, INFJs are one of the personality types that most frequently find love through So Syncd.
How So Syncd works
You sign up like a normal dating app or website, but with one key difference: you add your personality type.
If you're reading this blog post, then chances are you already know yours so you can add it in right away without taking our free personality test.
You then have the option of us doing all the hard work for you and finding compatible matches or you can search for specific personality types yourself.
Either way, you get a compatibility percentage for each person, can search for people in any location, and can see who has liked you.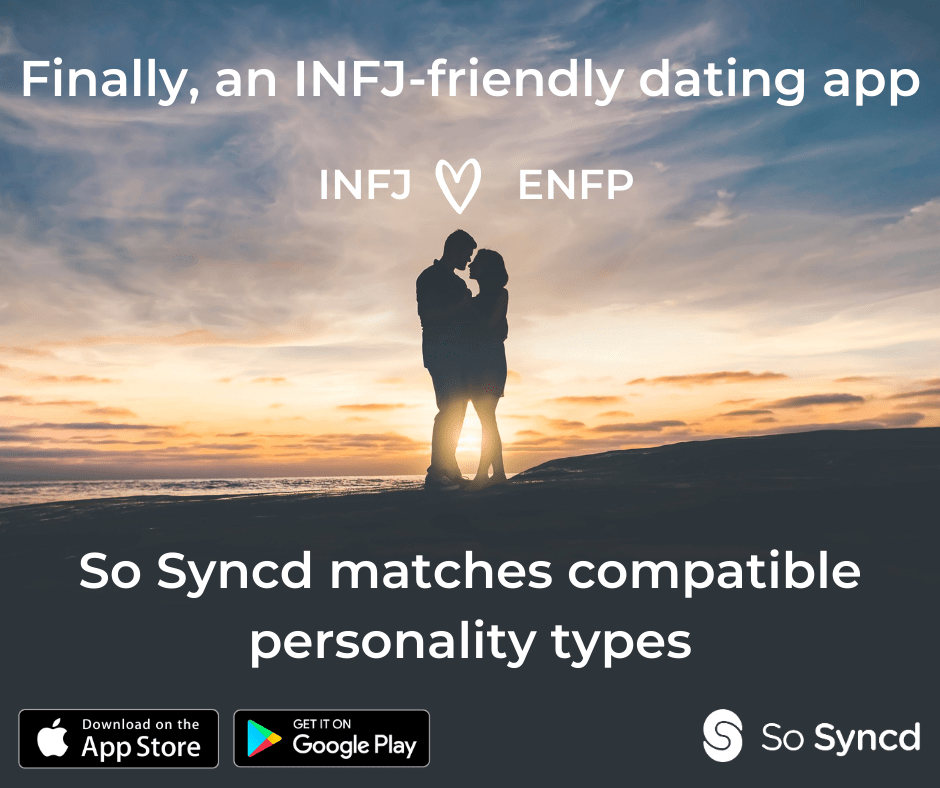 How we match couples
Do we match similar or different personality types? The answer is both. We pair couples who have just the right amount of similarities to 'get' each other and just the right amount of differences to create that spark.
Without shared ground, it can be challenging to find that deep connection. Feeling understood is essential for any fulfilling relationship and even more so for INFJs, partly because it happens so rarely.
At the same time, having differences helps create the chemistry that makes it something more than just friends. As an INFJ, your top matches on So Syncd would be ENFPs and ENTPs.
Meet others who are looking for a meaningful connection
Meeting someone on So Syncd increases the chance of being on the same wavelength.
As it is based on more than just looks, it attracts people who are searching for a deeper connection, rather than more superficial encounters that are often encouraged by other dating apps.
Plus, if both of you know your personality types on your first date, it can make for a more interesting first conversation.
Available worldwide now!
Ready to start meeting like-minded people today and stop wasting time on bad dates? So Syncd is the first website and app of its kind and is ready to use now.
Even better, you can sign up for free from anywhere in the world. The app is available for both iOS and Android. Sign up here.
The post How a New Dating App Helps INFJs Find Love appeared first on INFJ Blog.